Western Australia Legislation for Video Surveillance Devices
---
This document is an analysis of the Western Australia Surveillance Devices Act 1998; its purpose is to highlight some widely held misconceptions regarding where video surveillance cameras can be installed and what can be recorded.
Download Western Australia Legislation for Video Surveillance Devices (PDF)
WESTERN AUSTRALIA CLOSED CIRCUIT TELEVISION (CCTV) GUIDELINES
---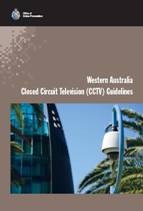 The West Australia Police are establishing a register of CCTV systems within the state, registration details will be held centrally in a protected database, the database will be used to map the location of CCTV systems for use by Police investigators. CCTV footage is an invaluable tool for investigators and we are seeking your help to find out where these CCTV systems are.