Department of Fire and Emergency Services (DFES)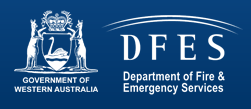 The Department of Fire and Emergency Services (DFES) and associated volunteers respond to a wide range of emergencies including fire, cyclones, storms, floods, road accidents, chemical spills and earthquakes as well as undertaking search and rescue operations on land and water.
The Fire & Emergency Services Authority of WA's Website
DFES Fire Safety in the Home Pamphlet
DFES Bushfire Safety and Preparedness Page
Every day around Australia preventable fires occur in the home. Far from being something that "will never happen to me", fire can strike without warning anyone, anywhere, anytime.
The results of a home fire are often tragic. Loved ones can be injured or even die, and treasured possessions and property go up in smoke. But, with a little planning and common sense you can safeguard your family at home from fire.
Always use a licenced security installer and ask about emergency situations when planning any security upgrades. In high-risk environments you may need to talk with a suitably qualified Security Consultant, the Security Agents Institute can recommend providers with experience in Emergency Response.
WA Law requires smoke detectors in all residences that are wired into the mains electricity and have battery backup, even if these are also connected to a security system that is monitored off-site.
Every property should have an emergency plan and it is essential that this be documented and tested regularly.Ensure that everyone who will be sleeping in the house, especially children, knows what to do and where to go.
Include protocols for your security monitoring company in the plan and make sure they know what to do if they receive a fire alarm, e.g. a single smoke detector activates, phone the property, multiple detectors active call 000. Some alarm panels have the facility to have a separate 'panic' button for fire, and so using that to 'confirm' a fire to the alarm monitoring company may speed up response.
When considering home security ensure that you provide a means of escape. If you have deadlocks and security screens, consider leaving a key close to the door, as you may not have time to go find your keyring during a fire. The key should be out of sight, but easy to find, even when crawling to the door because of smoke.
Being fire safe while still making sure your home is secure may sometimes seem to be contradictory, but with careful planning it is possible to have a home that is both secure and safe.